SHOPPINGNESS
Feeling: accomplished
Posted: July 23rd / Time: 16:25
Reply | 5 Comments | Memories | Edit Entry

I just got back from Fry's. Not empty-handed though.

I really wanted to get a box set of Stargate (preferably season 1), so I made my way to the DVD section. To my absolute disgust, THERE WASN'T ANY IN STOCK, but they had an ENTIRE SECTION devoted to Smallville. Keep in mind, I like Smallville, but it's turned into a soap opera... so I stopped watching SOMEONE (Sorry Katherine XD) died... D:

Johnny was with me, and now must accompany me everywhere because of what happened this morning. On the way, he randomly told me, "Christine. When I was at Petsmart, I saw two cats having sex. You should have taken a picture." I'm all, "SDFSDFHJ CDJSDJ O____O" and just wtf. D:

Anyway, so I went to the DS section because I was hoping to find Phoenix Wright somewhere, but nooooooo.... so instead, I bought Sonic Adventure 2: Battle, and DBZ Sagas (since Johnny wouldn't STFU) and made my way home.

But now I can't play, because he's hogging the GC.

*sad*
---
PEANUTS
Feeling:
Posted: July 22nd / Time: 18:45
Reply | 0 Comments | Memories | Edit Entry

Hmm.

Well, the weekend consisted of nothing but moving things around and weirdness... like, I was moving Filmore (FYI Andrew, he's a FISH ;P) to my room, but my mom freaked out and was all, "OMG WHY IS MY FISH IN THERE" and I'm all, "WELL YOU WERE NEGLECTING IT." So... I just put the fish back. :(

When your parent has an accent, it's funny. Like today, we were talking about my brother's friend being confused about his identity... he claims that he wants to kill himself, but anyway...

Mom: Maybe he's gay?
Me: I doubt it, he had a crush on Michael's girlfriend.
Mom: He sounds like a girl.
Me: Not really.
Mom: That poor boy...
Me: I know, there's something wrong with that prodigy.
Mom: Do you think he wants to cut off his peanuts?
Me: What?
Mom: His peanuts.
Me: He has peanuts?
Mom: He's a boy, of course.
Me: So why would he want to cut off his supply of peanuts?
Mom: (does a gesture of her chopping a finger, near her thigh)
Me: Wait. His... pe...n...is...? (I have a hard time saying that word XD)
Mom: Yes! His PEANUTS!

So when my mom says that word, it sounds like 'peanuts.' Hahaha, wtf D:

Now. Off to shower. And Stargate. :)
---
HJASDHADFHKSDFDF
Feeling:
aggravated
Posted: July 21st / Time: 15:08
Reply | 8 Comments | Memories | Edit Entry

WHAT THE FUCK

JOHNNY CUT THE IMAGES OUT OF MY POKEMON CARDS

INCLUDING A FEW HOLOS

I DON'T KNOW HOW HE GOT TO THEM

BUT HE DID

AND I'M PISSED >:(
---
A WHOLE LOTTA NOTHIN
Feeling:
Posted: July 16th / Time: 1:04
Reply | 3 Comments | Memories | Edit Entry

So today consisted of me catching up on some artwork and shows. Goodie! XD

As long as there's heat and that nasty orange thing outside we know as the sun, I'm staying inside. I don't want to get skin cancer. :(

Today's highlight probably would have been Stargate. Andrew suggested that I watch the premiere of Season 10 (or any Stargate for that matter), so I did, and I LOVED IT. :D Apart from creepy Ori girl and the blind Prior I must say that the show is very awesome. I'm going to see if I can get my hands on a season box set (or two) and pull a marathon... if he can do it, so can I!

Ori ships remind me of ping pong paddles though. XD

Gonna get back to some artwork, need to finish an icon and work on some pending images:

[-So Much Crap!-]

CAFFEINE FTW
---
INTERNATIONAL DITCH CHRISTINE DAY
Feeling:
bored
Posted: July 8th / Time: 20:55
Reply | 4 Comments | Memories | Edit Entry

I think today was "International Ditch Christine Day." Everyone ('cept for Beccaling and Keith, but he's always busy) had their away messages up and/or was idle. Even my offline friends who tend to be online a lot weren't around. So I spoke to Becca for a bit, then left, only to come back to see that everyone else was still gone. :(

And. I was going to give someone an image they needed today, but they never signed on... and one of the people I tutor refuses to pick up their phone... D:

I decided to just stop waiting and signed off to play a game by myself... I even saw this eyetoy thing at Target today, but I rather not buy it right now... mainly because Michael's girlfriend's birthday is coming up, and he might need some money for a gift... (he already spent his own money on another gift)

Spent the rest of the evening in IRC. Keith sent me a horrifying image... D:

So, since I had nothing better to do and wanted to kill time, I drew that weird Pearl legendary with lack of a decent reference XD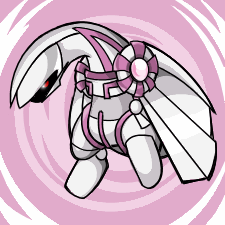 That's it...
---
Go Back SKIP 5 Go Forward